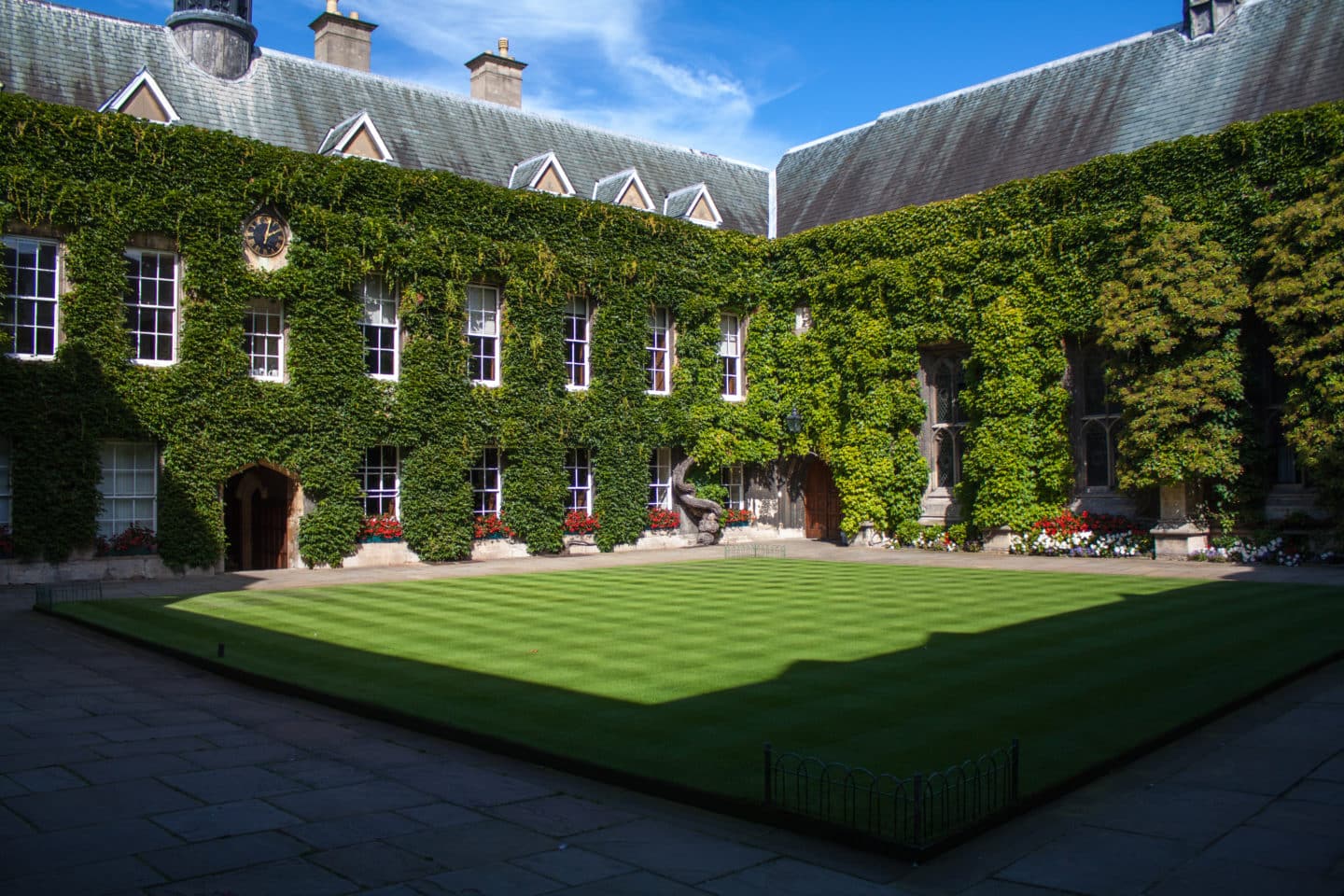 News
One year on from the Russian invasion of Ukraine: A scholar's story of coming to Oxford
24 Feb 2023
This moving article is authored by Denys Karlovskyi, a Ukrainian student at Lincoln College who is completing his Masters of Public Policy at the Blavatnik School of Government. He is a recipient of a Sloane Robinson/Weidenfeld-Hoffman Scholarship, which is part funded by the generosity of Lincoln College benefactors. The College extends its grateful appreciation to the Sloane Robinson Foundation and to all who donated to the Lincoln Ukraine Scholarship.
Today marks one year since Vladimir Putin launched a full-scale invasion of Ukraine, my home country.
I recall those last ghastly wintry days of February 2022. On the evening of the 23rd, I was finishing my routine job as a newsfeed journalist at Ukrainska Pravda, a renowned online news outlet in Ukraine. The Ukrainian parliament had just held an out-of-schedule sitting to invoke the state of emergency nationally and raise the expenditure for the military. President Volodymyr Zelensky hosted the CEOs of the top 50 Ukrainian companies at the presidential office along with the chiefs of Ukrainian armed forces and intelligence agencies. The men in combat fatigues assured those in high-end suits that war wasn't coming any soon. After writing news articles about all of that for our readers, I closed my laptop. My mind was preoccupied with another matter: my application to Oxford. I had not received any emails about my application since submitting my documents before Christmas 2021. How little did I know that my whole world was to go all awry overnight.
The next morning I woke to the sound of missiles hitting my city. Fortunately, I was not in Kyiv at the time but instead was staying in my hometown to celebrate my cousin's birthday. I had to fold my whole life into one tiny backpack and flee the city. The name of every single Ukrainian journalist was put on the hit lists by Russian security services, FSB and GRU, and the bitter thought that my life might be coming to an end hit particularly hard on that chilly, wintry morning.
My family and I managed to flee to a countryside cottage house farther from the city. We were fortunate that the house had internet and a TV connection. The TV was roaring with newsfeed that the Ukrainian parliament had convened to invoke martial law. Next, the channel showed an excerpt from an angst-beridden NATO general-secretary, Jens Stoltenberg, grappling to put into words what was happening to Brussels-based journalists. As the window-panes kept thudding from the bursts of missiles nearby, another bitter thought hit me hard: that next few weeks I was bound to spend in the damp darkness of the cellar.
The whole world was coming undone before my eyes. My Kyiv-based colleagues were trying to leave the capital by train and by car to escape imminent death by the Russians; the other half of the newsroom was working double overtime, day and night. In that musty cellar, I was pondering how little I achieved in my life as a missile attack or Russian subversives might kill me in the days ahead. As I continued to work and write about how my country was torn apart, missiles blew up the streets I walked so many times and Ukrainian soldiers held on tight despite the obvious disparity in numbers.
Some of my friends did not manage to leave Kyiv. They had to sleep in the underground stations with only a phone with a discharged battery, a blanket and a few chocolate bars to munch. My ex-girlfriend and her mother did not have a home anymore after their city, Mariupol, was razed to the ground by carpet-bombing. My uncle all but ended up in the site of a missile attack at the shopping precincts of my hometown. Some of my friends and family members were stuck at border crossing points as flocks of Ukrainian women and children fled the dangers of war. My parents made my adolescent sister leave Ukraine with her aunt and cousins as refugees. When we said goodbye to her, no one was sure we would ever see each other alive again.
Week after week, day in, day out, I was working 10-12 hours, daily and nightly to write news articles about battles for Ukrainian cities, air raids, curfews and missile blasts. Mentally and physically drained, I completely forgot that I had made an application to Oxford. Suddenly an offer letter from Blavatnik School of Government landed in my inbox one week. However, I could not leave Ukraine because male citizens were barred from leaving the country. Besides, I had to go on working as our newsroom was out of their depth and, anyway, most of my documents were in different places.
Right at that time, our photo correspondents were one of the first to uncover the atrocities perpetrated by the Russian military in the suburban area of Kyiv before withdrawing. Our newsroom was one of the first in the world to see the photos of charred corpses of parents laid with their children in mass graves. They were brutally killed by Russian soldiers without any palpable reason. It was definitely the darkest and lowest period of my life to broadcast this news article to millions of readers on that day. Again, the idea of my Oxford offer slid away from my mind.
After a few weeks, the Weidenfeld-Hoffmann Trust reached out to me to arrange an interview. Grappling to put my ideas together, I thought I had fared pretty badly in the interview. However, much to my surprise, two weeks later I received an award letter that the Weidenfeld-Hoffmann Trust is willing to provide me with a full scholarship. At that point, I realised that my dearest dream had come true.
Today, as the year has passed by, I write these recollections with an immense sense of gratitude and honour to have this privilege to study at the world's leading university while my home country is ravaged badly by the missile attacks, artillery fire and power cuts. In Oxford, I feel proud to be granted a life-changing chance to acquire all the skills, knowledge and connections I need to help my country withstand the after-shocks of the war, including: a large-scale pandemic of PTSD, economic fallout, spike in violence and political instability. I am particularly grateful to Lincoln College for the warmest welcome I received when moving to Oxford from an active war zone. All of the thoughtful and nuanced support provided by the College with my documents, finances and accommodation moved me deeply.
A crucial landmark in my studies came at the end of Michaelmas when I discovered that my former classmate fought against the Russian military in Mariupol under siege but eventually was captured as a prisoner-of-war. The Ukrainian authorities managed to get him out through a PoW swap with the Russians. In the prison, he withstood the grim reality of hunger and sensory deprivation as well as humiliation.
I was left speechless by his story and the fact that he survived despite losing more than a dozen pounds of weight. He kept joking and even cheering me up (instead of me doing that). When I feel gloomy, I recall this godlike fortitude of my friend and it reinvigorates my hope that Ukraine will prevail.
On this day, I am thinking about the many thousands of young Ukrainians who have had to withstand the reality of war instead of enjoying university life. With a particularly poignant sense of sorrow, I think about my peers who have been killed or fatally wounded in the ongoing warfare and would never get a chance to further their ambitions and dreams. I feel immensely proud to be a Ukrainian student in Oxford this year!
Where next?
Find out how to support students from UkraineRead more