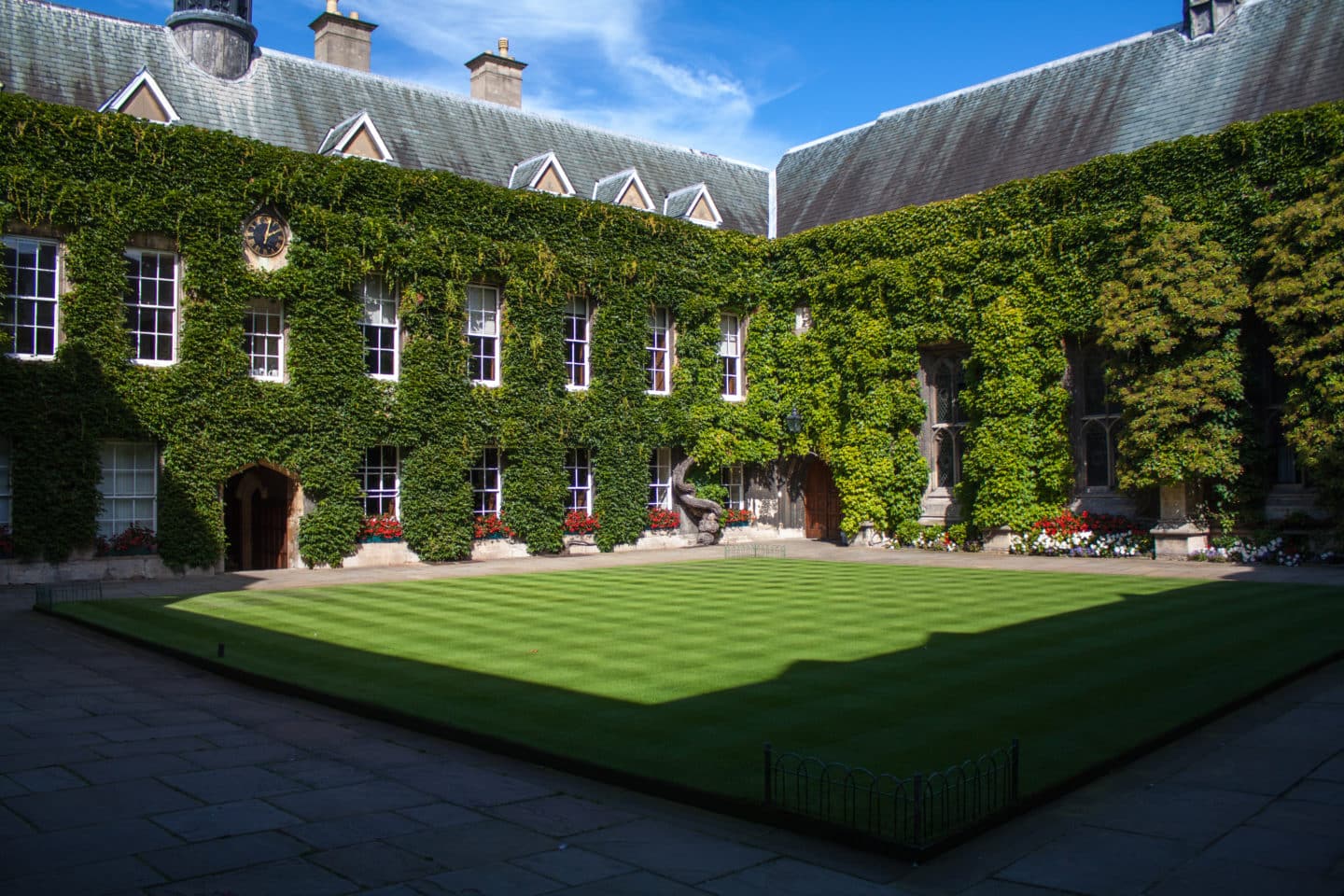 News
Year 9 Students visit Lincoln as part of Pathfinders Access Programme
23 Mar 2023
Year 9 students from Lincoln Christ's Hospital School, Sir Robert Pattinson Academy and Guilsborough Academy visited Lincoln College, Oxford on Friday for the first time as part of the collaborative Pathfinders programme.
Students from Lincolnshire and Northamptonshire who are eligible for free school meals can take part in the programme, opening doors to youngsters who are currently under-represented at Oxford.
The students were able to take part in a range of sessions on topics such as Astrophysics, as well as workshops with the Lincoln International Business School and the Lincoln College Archives.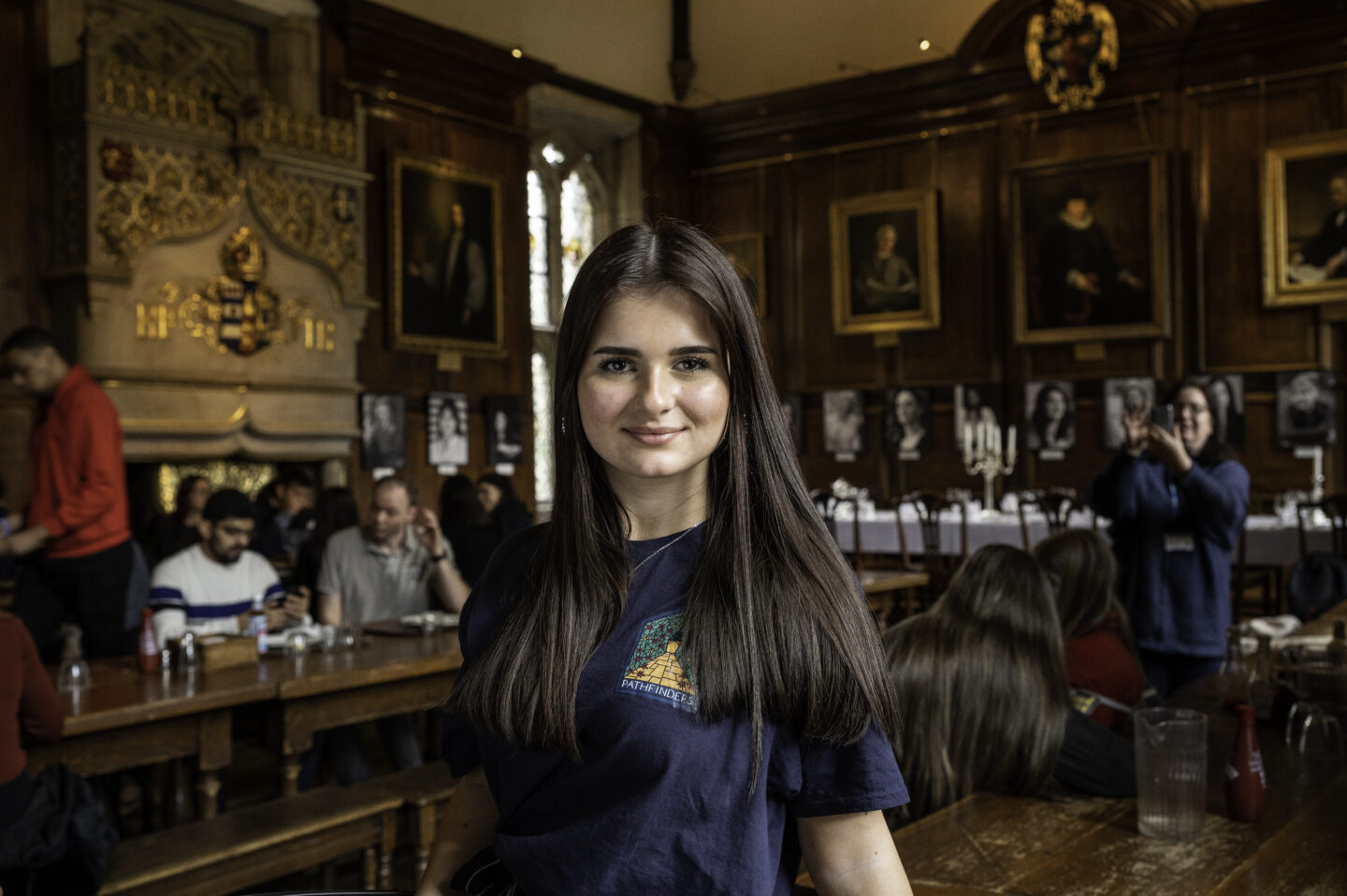 Faye Platt, 14, a year 9 student at Guilsborough Academy, said:
"I loved every single minute of the Pathfinders' day. It gave me a chance to see how it works at university and the independence you're given with your studies and social life.
"The Pathfinders programme has given me a wider perspective of what university is all about. It's not scary and daunting but quite welcoming. It's widened my eyes to other opportunities and subjects that I might want to study in the future."
The Pathfinders programme, Lincoln College's flagship access initiative, wants students with academic ambitions to feel confident in applying to study at the College. It is part of the College's commitment to recruiting the best students from all backgrounds, as well as encouraging applications from under-represented students who receive free school meals. At present a third of Lincoln College students from the UK receive means tested bursaries.
The programme, which launched in autumn 2022, is aimed at students in years nine (13/14 years old), ten (14/15 years old) and eleven (15/16 years old).
Lincoln College has close ties with Lincolnshire and Northamptonshire, providing open days, visits and study days. The Pathfinders programme takes that one step further through continuous contact with students and partnerships, including the University of Lincoln and Lincoln International Business School.
These links will give pupils the opportunity to receive ongoing information and advice to make informed choices about their future and potential. Youngsters have the opportunity to attend residential stays and workshops in Oxford and Lincoln. There is also additional information for parents and teachers about financing, university admissions and skills development.
Dr Maryanne Saunders, Lincoln College Access and Career Development Fellow, said:
"We are delighted to have hosted our second Pathfinders event. It was wonderful to welcome Year 9 pupils from across our link regions to the College for workshops in Business and Astrophysics. The College Archivist Lyndsay McCormick and Dilts Fellow Dr Laure Miolo organised a Palaeography workshop with Lincoln's own collections.
"It was fantastic to see the excitement on the children's faces during the day and we look forward to welcoming them back for more sessions in the near future."
John Gibbins, Careers Coordinator, Lincoln Christ's Hospital School, said:
"The Pathfinders Programme gives us an invaluable chance to expose our pupils to the remarkable opportunities that higher education represents. The academic sessions were challenging but the atmosphere of respect and collaboration encourages our pupils to stretch themselves. Involvement from both the University of Lincoln and Lincoln College Oxford has allowed both the school and our pupils to make connections we would have otherwise struggled to build.
"Staff and pupils alike were delighted to make the journey to Lincoln College, we even had a few fist pumps when the invite was handed out!"
There will be two further trips for the students next year, at both Lincoln University and Lincoln College, Oxford. The third and final year of the cohort's programme will see the students experience an overnight stay in Oxford. Lincoln College will soon be recruiting for the next student cohort, inviting more schools from Lincolnshire and Northamptonshire to take part.
About Pathfinders
The Pathfinders Programme was developed using research into demographics in the UK and the effectiveness of providing access to youngsters from under-represented demographics to higher education.[1]
Data from Lincolnshire County Council revealed in January 2020, pre-pandemic, 17,612 Lincolnshire pupils were eligible for free school meals, compared to the latest figure of 22,675 – increasing by 28.7%.
Eligibility for Free School meals has consistently been found to be a reliable indicator of disadvantage.[2]
[1] "Programmes that combine several different approaches to support students are the most evaluated intervention. Research suggests that they lead to considerable increases in student aspirations, and some increases in other outcomes. However, it is difficult to disentangle the individual components of these programmes. Those that are successful tend to be tailored to the individual needs of students, start early in the student life cycle, and form part of existing careers advice in schools and colleges." (Robinson and Salvestrini 2020)
[2] "Eligibility for FSM is an indicator of a pupil living in a family with an income deemed to be below the poverty line. The latter is defined as any family entitled to Income Support, and more recently Income-based Jobseeker's Allowance or support under Part 6 of the UK Immigration and Asylum Act 1999." (Harrison Waller 2017)