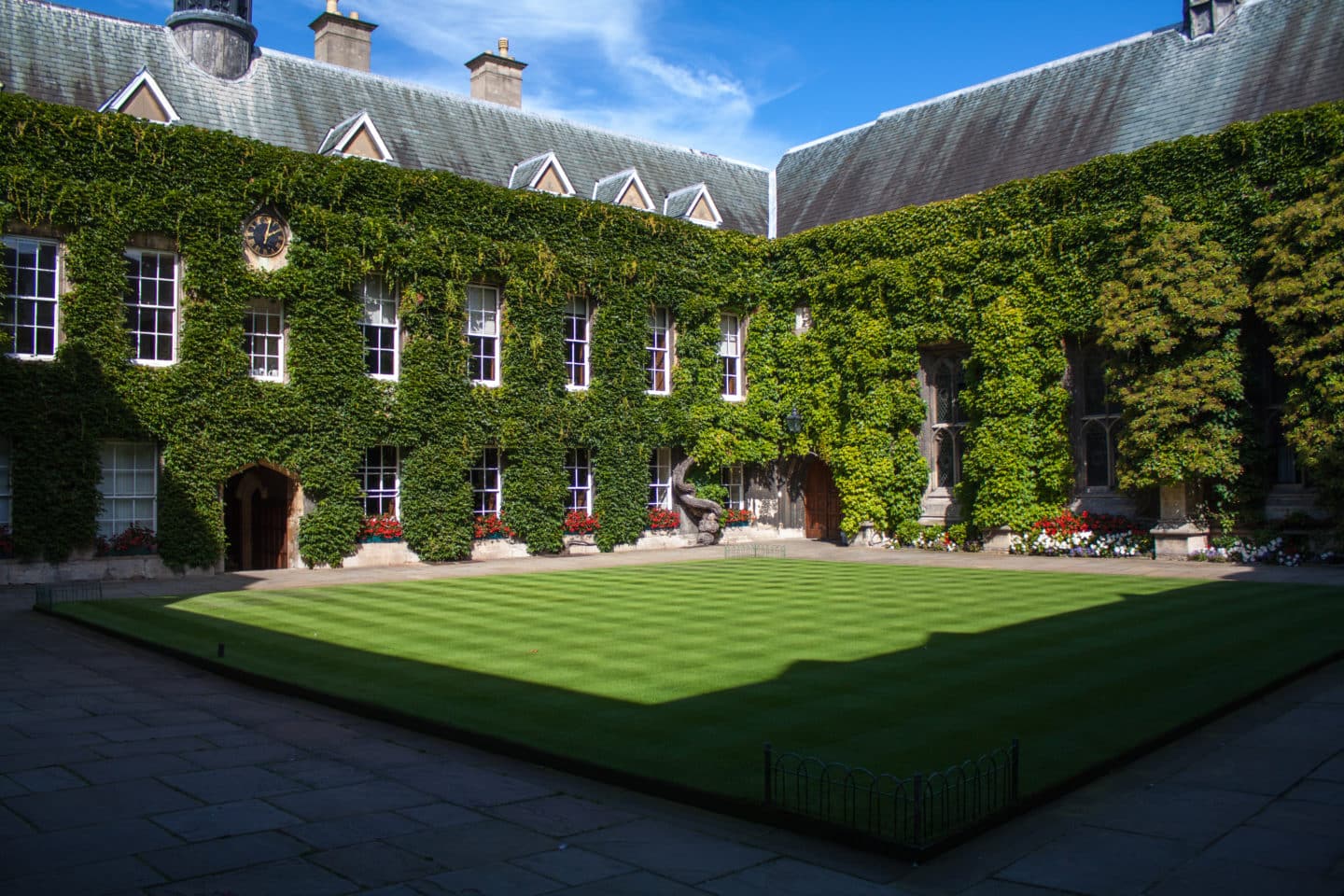 Lincoln's Commitment to Anti-Racism
As protests took place across the world at the killing of George Floyd and institutional racism in May and June 2020, the College reaffirmed its commitment to equality and diversity and to addressing racism in all its forms.
The College also took that same historic opportunity to institute the first Commission in an Oxford college, charged with the exploration of its experiences and practices relating to race, and with making recommendations to the Governing Body for ways to strengthen its commitment to anti-racism. The distinguished immigration lawyer and former chair of Liberty, Sonali Naik, QC (Law, 1986) graciously accepted the Chair of the Commission, whose other members were Peter Babudu (Alumnus, 2001), Susan Harrison (Fellow and Development Director), Jody LaPorte (Fellow in Politics and International Relations), Lydia Matthews (Senior Tutor), Peter McCullough (Fellow in English and Anti-Racism Advocate, from Trinity 2021), Jelani Munroe (Geography D.Phil.), Oluwatofumi Omisore (PPE undergraduate, to Trinity 2021), Nina Thompson (HR Manager), Meghmet Tatoglu (History undergraduate, from Michaelmas 2021), Dominic Vella (Fellow in Applied Mathematics), and Lindsay McCormack (College Archivist, Secretary to the Commission).
At a special meeting of Governing Body on 7 January, 2022, College was pleased to welcome the Commission's Chair and to receive the Anti-Racism Commission's report. Ms Naik summarised the Report's aims as having been 'to identify barriers to race equality and to eliminate racism in the College; to encourage people from black and ethnic minority backgrounds to apply as students and staff to Lincoln; and to increase and foster the academic and career progression of those who are black or from an ethnic minority'. She commended the 'clear appetite on the part of the College to effect change' along with the Report's call for 'a more pro-active and anti-racist focus to the College's core purposes of teaching and research'.
Central to the Report was its encouragement to embed anti-racist awareness and practice at all levels in the College. To that end, at its meeting on 26 January, 2022, Governing Body delegated each of the Report's recommendations to one of the several Committees responsible for the various aspects of Lincoln's academic and operational life, with a request  to consider each recommendation in depth and to recommend appropriate action on it to the College.
At the same meeting, it was also resolved to publish the Report's recommendations on this page, with Governing Body's decisions (informed by the Committee's recommendations) concerning them, as they are made. The whole College community looks forward to sharing this further evidence of its commitment to anti-racism.
Anti-Racism Commission Report
Recommendations & College Actions Taken - Hilary term 2022
Recommendation 9
'Continue the monitoring, recording, and reporting of welfare needs in general. Specifically, the College should find a more suitable and superior room for its Multi-Faith Prayer and Quiet Room.'
Action: The multi-faith prayer room (currently in Staircase 16) to be relocated to Fellows' Guest Room C and its use reviewed after one year.
Recommendation 12
'The College should, at a minimum, have a strong and prominent statement encouraging applications from BME candidates in all job advertisements and further particulars.'
Action: The following sentence to be added to the Equality statement in advertisements and further particulars for academic posts: 'Applications are particularly encouraged from women and black and minority ethnic applicants, who are under-represented in academic posts in Oxford.'
Recommendation 14
'For all staff given a formal annual review, the College should include in that process a question or space in discussion for issues of race to create a safe, embedded opportunity for airing concerns or complaints relating to race, or for discussing positive steps taken in relation to it in the workplace; this would also allow a structured way for line-managers to review targets and address the "due regard" and "fostering good relations" requirements of the Public Sector Equality Duty. Serious thought should also be given to whether and how such an aim could be addressed with Fellows who have no formal annual review.'
Action (i): The following sentence to be added to Fellow and staff reviews: 'Do you have any concerns or complaints either within your direct working team, or within the College relating to the protected characteristics of age, disability, gender reassignment, pregnancy and maternity, race, religion and belief, sex, and sexual orientation?'.
Acton (ii): At induction, new fellows to be informed that they can at any time discuss matters relating to any protected characteristic with the Rector, the Sub-Rector or the Anti-Racism Advocate.
Recommendation 15
'The College should consider whether to enhance the level of training, including anti-racism training, for all academic staff and Fellows and whether this should be mandatory.'
Action: College ensures that it continues to require Equality and Diversity training for all new tutorial Fellows who have a role in undergraduate admissions.
Recommendation 17: 'The College should consider whether regular follow-up (post-appointment) race equity training should be introduced for all staff.'
Action: The College provides annual refresher training (online) and face-to-face equality training for all administrative and domestic staff every three years.
Recommendation 18
'There should be a target that all persons involved in recruitment and appointment exercises undertake anti-racism training or that this forms a specific part of their equality training.'
Action: All members of recruitment and appointment panels will be provided with (online) Equality and Diversity training.
Recommendations 19 & 20
'Anti-racism training should be part of induction procedures for all students …. which the College should have responsibility for overseeing and arranging; responsibility should fall with the College and not with students.'
Action: The College to have oversight and responsibility for freshers' week training.
Action: Anti-racism training, like consent training, to be integrated as a compulsory component of College Induction for freshers.
Action: Refresher courses in anti-racism to be offered to all enrolled students.
Recommendation 22
'The next version of the College's Single Equality Scheme (due for review in 2022) should include an equality objective specific to race and be regularly reviewed by the Equality Committee.'
Action: College to adopt the following equality objective in its Single Equality Scheme: 'To eliminate any racial discrimination and promote racial equality.' College notes that this is the requirement under the Public Sector Equality Duty, and that further detail on how this objective is to be achieved will be incorporated in the Single Equality Scheme, under review in Trinity Term 2022.
Recommendation 26
'All College committees must be proactive in setting and evaluating an anti-racist agenda within their respective remits.'
Action (i): This principle noted and accepted by chairs of all College committees as part of Governing Body's acceptance of the Commission's Report.
Action (ii): The Junior Relations Committee's terms of reference to be updated and to make 'Anti-Racism Initiatives' a standing item on its agendas, under 'Cross-Common Room Matters'.
Recommendation 27
'Recognising its great early success and its obvious contributions to racial awareness at Lincoln, the College should take steps to encourage and embed Lincoln Unites more fully into the fabric of its annual life. Since LU operates with a President and a Committee, a view should be taken on whether it would be advantageous (for visibility), or even necessary (for bookings, funding, and other College support), for LU to register like other clubs and societies through the Senior Dean, Junior Relations Committee, and Governing Body.'
Action: Lincoln Unites registered as a College society in September, 2021.
Action: The Anti-Racism Advocate appointed as formal advisor to embed Lincoln Unites more deeply in the fabric of College life.
Recommendation 30
'The College should monitor and audit seminars/events at College for demographics of invited speakers.'
Action: College acknowledges concerns over the legal difficulties of collecting and holding such data for audit, and reaffirms its view that event organisers continue to be encouraged to keep diversity as an important consideration in their programming decisions. See Action (ii) under Recommendation 26.