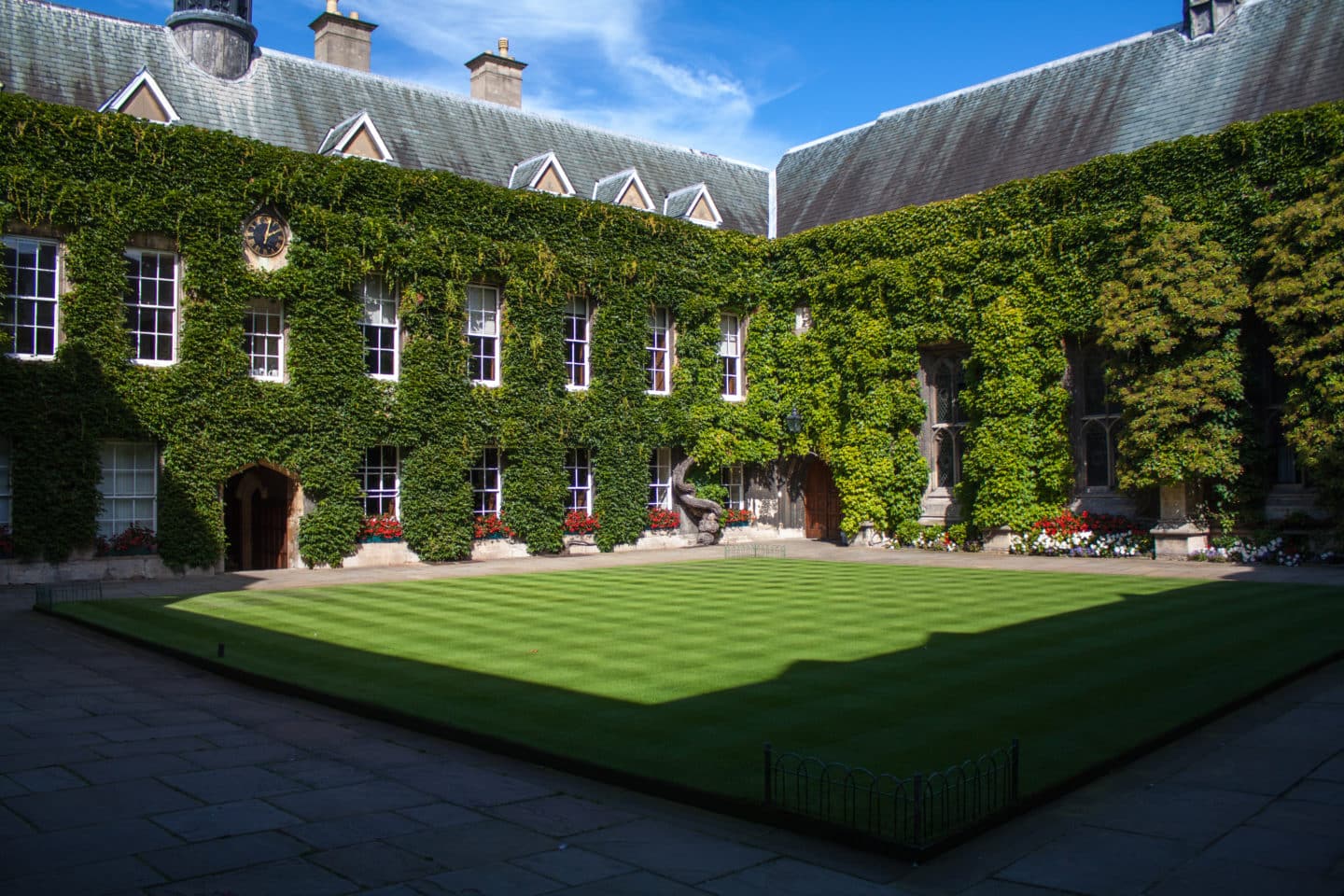 Graduation ceremony: Friday 3 November 2023
We look forward to welcoming you to your graduation ceremony on Friday 3 November 2023. This page contains key information about the ceremony, including the schedule, and a booking form to confirm arrangements for the day.
Please read the information below and then complete the form by 5pm on 29 September 2023.
Degrees are conferred in the Sheldonian Theatre. Graduands and their guests are invited to a celebratory drinks reception with the Rector in College.
Please note: if you have any debts or dues outstanding to your college or the University you may not be permitted to graduate.
These arrangements are being made with the safety of our graduands and guests in mind. They may be subject to change if Government guidance concerning the pandemic should alter.
| | |
| --- | --- |
| 8.30am onwards | Graduands to report to the College in time to collect guest tickets and robe ready for the ceremony (in the Smoking Room) |
| 9.15am prompt | Ceremony briefing for Lincoln graduands with the Dean of Degrees, and signing of the Graces (in the Langford Room, Berrow Foundation Building) |
| | Guests should make their way to the Sheldonian Theatre for the ceremony |
| 9.45am | Doors of the Sheldonian Theatre open to visitors |
| 10.30am | Start of ceremony - Lincoln graduands are presented |
| 11.50am | Ceremony ends |
| 12.15-1.15pm | Celebratory drinks reception in the Langford/Oakeshott Rooms |
| 12.45pm | Including an address and presentations by the Rector |
| 1.00-2.00pm | Professional photographers available in College (photos to be taken in the Lower SCR if wet) |
| 1.30-2.00pm | Disrobing |
Information about your degree day
Tickets are required for visitors attending the ceremonies. Graduands may normally have up to two tickets for visitors. There is no formal dress code, however most guests dress for a formal occasion. Children aged seven and over are welcome to attend the ceremony, and they will require a ticket if they occupy their own seat.

Graduands, guests, and staff attending should be aware that graduation ceremonies are regarded as public events. Names, colleges and degrees of graduands are published in the graduation programme unless the graduand specifies they do not wish their details to appear.

Please be aware that by attending a degree ceremony at the University of Oxford, either as a graduand or as a guest, you may be captured in photography or film footage. Note that not all students choose to graduate in person at a graduation ceremony – you can also choose to graduate in absentia.

The ceremony will also be streamed live at the following URL: https://livestream.com/oxuni/odc so that any family or friends who cannot attend will be able to watch the ceremony as it is taking place.

Full academic dress (sub fusc) must be worn at degree ceremonies.  Students may wear their preferred items from the following list:

One of:

dark suit with dark socks, or dark skirt with black tights or stockings, or dark trousers with dark socks or dark hosiery – please note that socks must cover the ankle completely, 'trainer socks' are not acceptable
dark coat if required - worn underneath the gown
black shoes
plain white collared shirt or blouse
white bow tie, black bow tie, black full-length tie, or black ribbon.

Plus:

the appropriate academic gown
mortar board or soft cap

When wearing sub-fusc, your clothing must not leave any part of your legs, ankles, or feet uncovered.

The mortar board may be worn out of doors but must be removed and carried indoors.

Ministers of religion may wear clerical dress, with a gown over, when attending ceremonies. If a student wears a head dress/scarf for religious reasons, a black scarf should be worn. Members of the University serving in HM Forces are permitted to wear uniform together with a gown.

All students, EXCEPT those having a doctorate conferred, can arrive at the Sheldonian wearing the gown of the degree which they are going to have conferred at the ceremony, and then add the hood at the appropriate time during the ceremony.   It is important that all students should bring their mortarboards with them (or arrange to hire one).

Doctoral candidates must wear the gown (and hood) of their current Oxford status to the ceremony (if you have no other Oxford degrees, this means your graduate gown). Candidates then change into the DPhil gown once their degree has been conferred.

It is recommended to hire the necessary gowns which can be arranged through College (and should be paid for on collection - approximate hire cost £45 per gown).  We assume that candidates can provide their own graduate gown and mortarboard unless they tell us otherwise.

The Sheldonian Theatre is a Grade I listed building. Please note that there are no lift facilities and the majority of seats are benches, some without back rests. Guests should be made aware that they may have to climb several flights of stairs to be seated.

Guests need to follow the directions of the stewards as to seating so all guests can be accommodated. The Sheldonian will not reserve seats, even for those with specific requirements. The team are very good at accommodating access requests and can deal with most on the day.

Please see The Sheldonian Theatre's access guide here.

Guests with limited mobility should make their way to the Sheldonian as early as possible for the time of the ceremony they are attending so that they can be seated first. Once doors have opened, a steward will assist the guest in finding a suitable seat within the venue. There is no need to give advance notice of special requirements unless they require greater assistance.  In such cases please contact Lincoln who will liaise with the Sheldonian Theatre to make appropriate arrangements for you.

For persons unable to manage stairs, there is a toilet on the ground floor. For those using a hearing aid there is a loop system for when the Sheldonian PA system is in use. There are two public disabled parking spaces on Broad Street.

We ask that you and your guests refrain from taking photographs or recording videos during the ceremony.

Audio and visual images of the ceremony are publicly available via the sale of personalised DVDs of the ceremony. Further information can be obtained here.

Graduands may like to give a gratuity to the Scout who attends them at the ceremony.

Once you have your degree conferred at a degree ceremony either in person or in absence, you will automatically receive a degree certificate. This will either be presented to you by the college on the day of the graduation ceremony, or sent to you by post.

If you have not received your degree certificate within three months of the date of your ceremony  and you fail to notify us of this within that period, you will be charged for a replacement certificate. Replacement certificates can be ordered through the University online shop.